Just one short week after my last blog post (in June), I found out I was pregnant. As a result, I have not been updating here as I've been working out my own feelings on everything.
how I found out I'm pregnant
I had an inkling I was pregnant, or at least that something was up, even when I wrote the last blog post! I was all up in my feelings and had some breast soreness, which is unusual for me (the soreness, NOT the feelings).
A few days later, I was at the gym, wearing my heart rate monitor and my heart rate was SKY HIGH. It was above 200 at one point, and I was just doing weighted squats. I thought it was an error in my monitor and even reset it but my heart rate stayed high the rest of the workout session.
That day I was extremely thirsty, ended up getting a headache and still had those sore boobs. I went and bought a test on my way home. The rest of the week I had my sore boobs, excessive thirst and a feeling I might be pregnant.
It was Ruben's birthday week and we had roadtrip to Sedona planned so I took a pregnancy test before we left (WAY before it says you're allowed to, I hadn't missed my moontime cycle yet). The test was negative.
We went to Sedona, hiked for a few days and even visited the ever-so-appropriate womb cave. The morning after we got back Ruben went to the gym and I took the test while he was gone.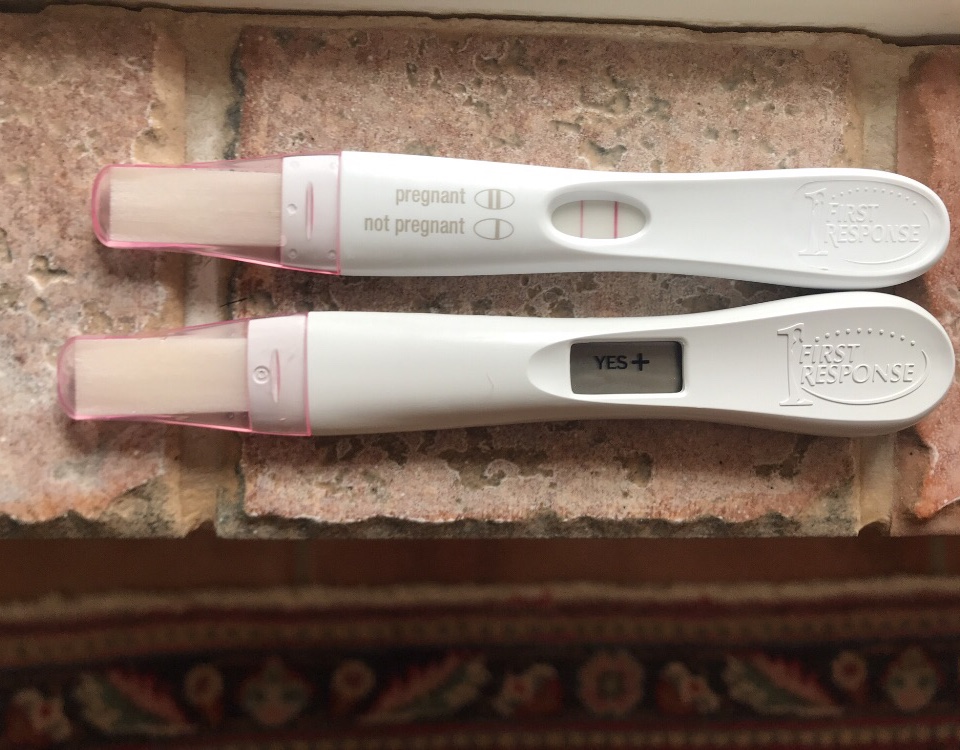 (sticks you buy just to pee on)
Ruben came home AND I DIDN'T TELL HIM. I think I was still processing. Frankly, I still am processing.
Since it was his birthday week, and the following day was Father's day, I wanted to come up with a clever way to tell him. So I waited until the next evening to tell him.
where the three of us take a selfie & ruben has no idea.
I told Ruben on Father's day by saying I had a belated birthday gift for him. It was two separate packages. The first package was a grain of rice (representing baby's size) and the second was my positive pee sticks. He was so excited and cried. It was lovely.
We had a flight to catch just twelve hours later and Ruben wasted no time downloading pregnancy books to his Kindle so we could start getting an idea of what to expect while we were on the plane.
Suffice it to say the last six months have consisted of research. ALL the research.
I plan on doing a post about my favorite pregnancy books, my thoughts on the first/second trimesters, my new routine, supplements and what I'm doing to prepare later. I feel like I've learned and am learning SO MUCH and (in the spirit of the blog) want to document it!

In the meantime, here are some progress shots. <3